Many homeowners normally have carpets in their homes.When choosing a carpet, people spend more time on the choice of flooring and make quick decisions regarding the padding. A carpet pad or cushion is what is installed underneath the floor. It plays an important role in the durability and longevity of the floor. Most people often assume that the role of a carpet pad is to create an additional comfort when walking. The real task of a carpet pad is to absorb the impact that comes from foot traffic.
You will realize that these carpet pads normally come in different types, densities and thickness. Their density and thickness determines their resilience and better performance. Before choosing a specific pad, it is important that you know a few things. You need to think about where you will be using the carpet pad before buying it. Is that area a high traffic zone or not? If there is someone who will require to use a wheelchair, will he or she be moving over this area regularly? If he or she will be moving over this area regularly, a spongy layer will inconvenience them. If you have children who will be playing in this area, it is important that you choose a thicker pad so that your children can be comfortable.
There are a number of different types of pads available in the market. Some of them include:
1. Waffle rubber
This was once a popular carpet padding. However, this is not the case. It does not offer the carpet backing much support. This usually causes the carpet backing to crack. However it is an inexpensive option and will work well if you plan on making use of it for a short time.
2. Urethane foam
This usually comes in two types. This type of pad makes your carpet feel very soft and comfortable due to the air pockets created by the rubber. You will realize that this type of carpet pad is best suited for areas where there will not be a lot of traffic in and out.
3. Flat rubber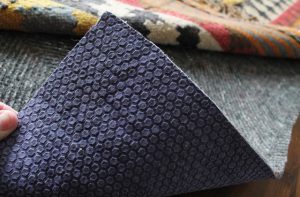 You will realize that this is a more expensive carpet pad. Due to its high price tag, this type of carpet pad is commonly used in  a commercial setting. However, as a homeowner, you can invest in this type of carpet pad. It will benefit your carpet a great deal.
4. Bonded urethane
It is one of the the most popular types of carpet padding. It is normally created by combining shredded pieces of high density urethane foam from furniture and automotive industries. It made of recycled materials. It works well in most situations, as long as you do not choose a carpet pad that is too thick. You will realize that opting for this type of pad is not only functional but is also a great way of preserving our environment.
The durabilty of a carpet depends on the cushion underneath absorbing all the impact that the carpet deals with every day. Choose the right carpet pad and your carpet will last longer.