If the rug pads are being used in the kitchen and bathroom areas of home, they are most likely to get dirty and moist most of the time as they are more in usage. In the kitchen, the rug pads are more prone to oil spills and the bathroom rug pads could easily get wet.
It is important to keep the rug pads clean and they should be checked on regular basis. Some of the rugs are made of such fabrics that when they get dirty, they attract more dust particles towards them. This would affect the rug pads underneath getting dusty too.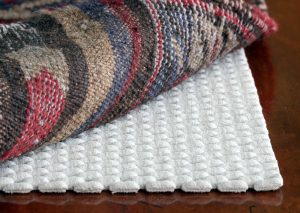 Rug pads must be placed under the rugs in order to avoid people from slipping and keeping the area soft. It provides cushioning to the rug. Sunlight could cause the colors of the rug to fade so you should keep rotating the rug from one position to another after a period of time.
It is better to vacuum the rugs regularly as it also helps to keep the rug pads clean and last longer. Some rug pads which are made up of plastic or rubber material, if not cleaned or moved for a very long time could even stick to the flooring. It is always better to take advice from the salesperson so that you should know which type of rug pad will be suitable with the flooring of your house.
If you need to store or move the rug pad, it could be folded or rolled up and placed in a plastic bag sprayed with an insecticide suitable for the fibers the rug pad contains. While reusing, when you'll unfold the sheet and walk on it, the creases will disappear.
In order to remove stains of beer, oil spill, coffee, colors, furniture dye, ketchup, ice-creams, tea and other stuff, you can now make an easy solution at home and keep it for cleaning of the rug and rug pads. All you need is one teaspoon of detergent (dishwashing or laundry) mixed with one teaspoon of white vinegar in a quarter cup of water. You can use a piece of damp cloth or paper towel dipped in the solution and rub it on the stain towards the direction of pile. The stain will be gone in no time.
Dry foam cleaners are also available and they are applied to the rug, even those with thick rug pads, as a foamy mixture and is vacuumed afterwards when the solution gets dry. Dry powder cleaners are sprinkled on the rug pads and they absorb all the dust particles in them. They could also be vacuum cleaned after a while.
It is always important to check the precautions before selecting a cleaning material for the rug pads because some chemicals might react with the materials used in the rug pads and might not be suitable for thick rug pads.