As an adult you will know many things in life which you even never experienced when you were growing up. Some of the things you will come to learn as you grow include sustainability, eco-friendly and organic. When working on a tight budget, you will try to locate organic products. As a woman in my thirty plus, I have several requirements which a product should fulfill before it can enter my household. It doesn't matter, whether it is a cleaning supply or decor, it should pass through the criteria.
When it comes to home décor, rugs have been my lust. Different people have different likes. There are others who like their lamps, furniture, but I like rugs. I believe they play a great role in making or breaking the decor of any room. Many people become confused when trying to figure out the difference between rugs and pads.
Rug Pads: what?
When buying natural fibers, you will make your household easily recyclable and it will eventually go back to the earth without pollution. When buying rugs for your home, it is advisable for you to go for natural fibers such as sea grass, wool, sisal and jute. If you will prefer a colorful rug, then ensure colors used on the rugs are all natural. Biodegradable colors which are non-toxic will make you reduce waste and pollution in the environment.
Rug pads: why?
Every rug will need a rug pad. There are many reasons why, here are reasons why each rug need a rug pad:
1. Safety
You will achieve great safety after you place a rug pad under your rug. Even if the rug will be placed on a carpet, a hardwood floor or any other flooring, a rug pad will reduce slippage and pulls which can expose you to safety concerns. You will walk comfortably in your home without fear of falling due to slippage.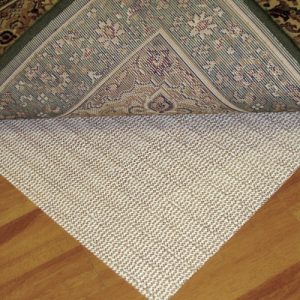 2. Longevity
A pad will play a great role in preventing the fibers from being crushed. The pad will act as a buffer between the rug above and the hard surface below. Your rugs will last for long if you will have a rug pad below them. The cost of buying rug pads is cheaper when compared to the cost of buying expensive rugs.You will prolong the lifespan of your rugs after you decide to have the rug pads installed below them and the hard surfaces.
3. Protection
Rug pads will prevent dye transfer, staining, marring and scratching which can be caused by the floor or the carpet beneath. The dye in your area rugs will be preserved for long after you buy the rug pads and have them installed below your rugs.
4. Comfort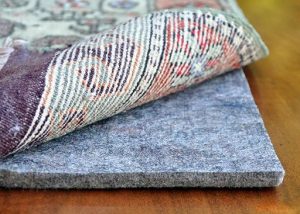 If you will like to achieve great comfort when walking in your home, you need to add pads in your home. They add softness underfoot when walking in the home. They also act as cushion which will reduce noise felt when walking in your home.
5. Cleanliness
You will find it very easy when vacuuming your home after you install the pads. The pads act as buffers which will prevent the rugs from developing hard stains.