When shopping for a rug pad, most people do not pay much attention to it. However, this is contrary to what a recent study conducted by one Textile Testing Service says.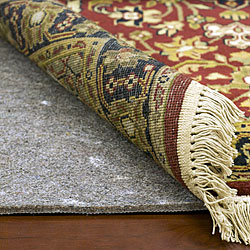 In that study, a chair weighing 150 pounds was rolled over different pad and carpet combinations for more than 20,000 times. The study revealed that those carpets that had no pads lost approximately 19.3% in thickness. On the other hand, those with rug pads only lost between 5 and 10% in thickness. It is, therefore, evident that a rug pad can:
• Protect the integrity of your pad.
• Make the cleaning of your carpet easy and efficient because the rug does not only raise the carpet slightly but also removes more dirt.
• It offers a soft walk and feels to your carpet.
• Save you some money in the end.
• Create a comfortable and enjoyable walking experience; it provides thermal insulation.
• Ensure quiet walking on the floor of your home. This is hand for those homes that have more than one level.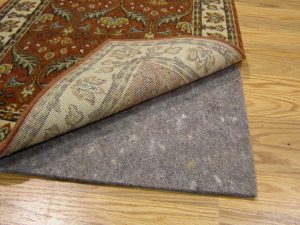 When it comes to buying a rug pad for your area rug, neither should you throw caution to the winds nor should size and thickness of the rug deceive you. Waffle-type foam and rubber padding type of rug pads should be avoided as much as possible. Why? These paddings may spell doom to the lifespan of your area rug. They may cause uneven wear on your area rug because they do not lie flat.
Remember, having a wrong carpet in your house will not only damage the quality of your area rug but also damage your flooring too. That is why you need to take some time thinking about the right rug pad for your needs. Ask yourself the following questions:
– Are there any members of your family of your family using a wheelchair?
– How many people will be walking on the rug?
– Where will the rug be used? Near the door or near your bed?
– Which type of furniture will be placed on the carpet?
An article published in the New York Times revealed that large area rugs need to be protected from wear and tear. For instance, room-size Orientals need padding for the area rugs to stay in top condition. Without the rug pads, furniture may skid over the area rug and destroy it as a result. It is worth noting that hair, thick synthetic foam, rubber, and jute are used to make quality rug pads. The location of your area rug should guide you when shopping for a rug pad. For example, pads that raise the rug too high should not be used near doorways because they will obstruct the door.
Nonskid vinyl and rubber padding are the best options for thin area rugs. Why? The chances are that the area rugs will either slip on the floor or wrinkle but with the rug pads, the possibility of that happening does not exist. Moreover, thin rug pads are handy when there is someone in your house who uses a wheelchair. This is because a thin pad makes the rolling of the wheels easy; wheelchair wheels cannot move on a soft surface.