"Open concept" is a common term in home design vocabulary. It's all about ripping down walls in order to create open-floor plans for the kitchen, living and dining areas. Although separate rooms are still a charm today, a majority of homeowners are doing away with their traditional floor designs so they can enjoy movie watching, cooking and eating all in one space.
What Inspired This Trend?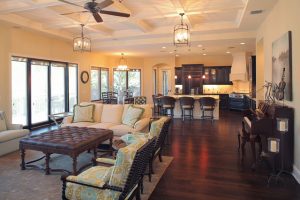 ---
In the mid-90s, the open-living plan was seen by homebuilders as an ideal way to design a home efficiently without using too much space. Back then, split-level and ranch homes were very popular. That hasn't really changed a lot as modern interior and architecture designs draw most of their cues from the mid-90s cultural norms for convenience.
The trend has been inspired by our modern way of life: Parents simultaneously share child-care and cooking responsibilities (blurred gender roles). We are also living in media and tech driven world in which we are expected to catch up on the day's bulletin during dinner hence the rise in open concept designs.
Benefits of Open Floor Plans
Open concept makes even the smaller spaces feel brighter and bigger. You can transform small rooms into light-filled spaces. Large great rooms are ideal for watching over on your kids. In addition, you can accomplish other household chores like cooking dinner while interacting with your little ones. What's more, placing a computer and desk on the back of the sofa or against a wall makes the transformed room even more multi-functional.
Tips for Open Floor Designs
Use lighting and furnishings to define spaces in your home. Lighting helps to outline various sections of a room. Replace large ceiling fans or place a chandelier dining table in the center of the living space. See to it that you maintain the same design style throughout the space.
Maintain The Same Design Style
It might sound obvious; however, keeping an aesthetic stream throughout an open concept living space is not an option. Essential design features like recessed lighting and flooring should be uniform. Color palettes in every space ought to supplement each other. Include different hues and texture layers for accents and highlights.
Include a Feature in All Areas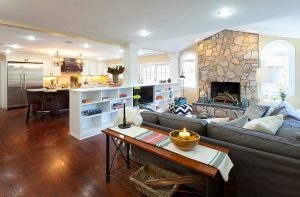 Creating outstanding design features in every area won't only make your room shine, but also help to distinguish each space. You can try a gallery-wall in the dining room, for example. Give every functional space a matching personality and have fun.
Keep an Open Space
Maintaining open views from each and every area to the next is important in open-floor plans. As much as you will like to be stylish, it is also important that you be strategic with placement. Avoid cluttering the sight lines with inappropriately large accessories or furniture, or even tall bookcases. Also see to it that you keep natural light and windows unobstructed.
Certainly, open floor plans have their own share of drawbacks. However, they offer efficient use of space and brighter living areas as well as multifunctional elements. This makes them a very popular choice for modern homeowners. They have blended very well into today's architectural designs and their popularity will continue to rise as years go by.