The walls of a home are one of the underestimated areas when it comes to interior designing. This is because most people focus more on their accessories, furniture and area rugs. Besides that, most people don't know what to do with their pieces of art for them to get the maximum effect in their spaces. What you should know is that before hanging up your art, you need to have a plan of what you want to get out of that room ahead of time. You, therefore, need to determine the color, style, and function of the room in a way that meets your tastes and preferences.
Most people are purchasing large pieces of art because they are considered to be the trendiest, but you don't have to break your bank so that you invest in them. A collection of small pieces of art arranged meticulously, for example, as a gallery can create the same effect the large ones does. All you need is to incorporate some level of creativity to help you design a one of a kind piece using readily available and inexpensive objects. Note that you need to paint your wall with a bold color to make your art pop out. Here are a few tips to help you create a picturesque wall art:
Lighting wall art
Marquis-style letters come in handy in creating a sentence or a word in lights. Alternatively, you can hang a neon sign to give your wall a contemporary and lively look.
Dimensional art
Use various materials such as seashells, paper towel rolls among other natural objects to create creative 3D and sculptural wall art. You can also consider hanging metal wall sculptures in free-form angles. Once you create your pieces, consider painting or dying them before hanging them in flowing formations.
Modern wallpaper art
The use of wallpapers is another great way of popping out your walls. If you decide to utilize them, it is important that you hung them on only one of the walls. You can also use wallpaper swatches by framing and hanging them in an innovative way.
Gallery art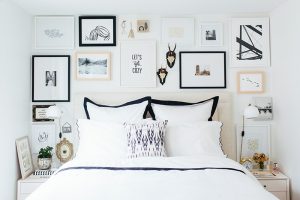 The first step to creating a great gallery wall art is to determine your theme. After establishing your theme, you can go ahead to hanging a group of your favorite pieces and objects on your bare wall.
Pronounced art
Given that bold and large pieces of art are the most trending, you can consider using one as a focal point in your space. Look for an eye-catching object such as an oversize canvas and hang it together with your art so that you create an uttermost visual effect. For a pulled-together look, consider tying in the colors in the rest of the room with that of the piece of art.
Repurposed wall art
Let your creativity fly through repurposing some of the items that you use for your day to day activities. Use your old textiles and fabrics, ferns, flowers and any other thing that can help you create your indigenous art and then hang it on your wall.
Wall decals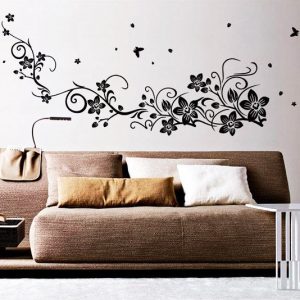 You can easily access wall decals and murals of all types including the handmade and the vintage. The good thing is that you can order for a personalized print that incorporates your work or images. If you are talented enough, you can try designing one on your own.
A personalized wall art reflects your personality, tastes, and preferences. Do not limit what your creativity can do for you.